It's been a little while since I've linked up with The Book Chat so I was happy when I heard that it was back this week! Plus any reason to blog about books and the Holidays is welcome.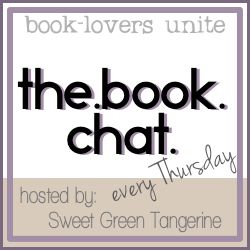 This week we talk about books or book/reading related items on our Christmas Wishlist. It's just so happens that this year, my list is mainly centered on books and movies.
Julia Child: Mastering the Art of French Cooking Vol. 1
I think this is a must in a collection, both as a cooking book and as a book period. I love watching the movie Julie and Julia and I'm fascinated by Julia Child. I'm one to use cookbooks much but my husband and I collect them anyways. I think this would fit perfectly on my bookshelf!
Fred Pellerin: De Peigne et de Misère
Fred Pellerin is a famous and adorable storyteller from a little village close to where I grew up. He has a way of playing with words and stories of our grand-parents' time to take you in his universe where everything is magical and wonderful. It is difficult for me to go see his shows now because I'm rarely back home so I will have to make do with a written version of his stories.
Kobo and Chapters Gift Card
Because there are always more books that I need want and these cards will come in handy and my gifts last longer : )
Are there any books on your list this year? Do you like to offer books for Christmas? Make sure you check out The Book Chat entries on Thursday to see what everyone else is wishing for.